Our stores at the airport
Check this website for all the information about the Duty Free stores in Bilbao. Buying at Duty Free stores allows you to find name brand products at a lower price than usual thanks to our airport stores' tax exemption. Buy the perfect gifts at our stores, like a liquor bottle for your friends or sweets for your children.
Take advantage of Bilbao Duty Free's exclusive offers and enjoy your trip.
Bilbao Airport has one Duty Free Store located in the Departures terminal. It has opening hours that range from 5:30 a.m. to 10 p.m. In Bilbao Duty Free you can find a wide variety of tax free products like fragrances and cosmetics by leading brands like Versace and Lancôme, liquor from Jameson and Havana Club, and food items like chocolates from Lindt and Milka.
With Duty Free, you can now save time while shopping in our stores at the airport. The Reserve & Collect service allows you to do your shopping online. Afterward, all you have to do is pass by our Pick up Point in Bilbao Airport, which is the Duty Free store itself, up to two hours before your departure.
Buy at the airport's Duty Free store and make the most of your wait time. Purchase high quality products are a reduced price thanks to the tax free nature of our airport stores. Choose between buying in our Duty Free Store at the airport or online thanks to the Reserve & Collect service.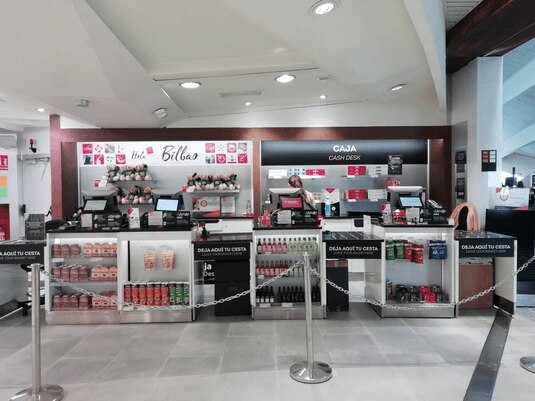 The Shop
Location

Departures

Shop Categories

B&C, Sunglasses, Watches, Beverages, Food, Tobacco, Souvenirs

Phone Number

Spain: 900 25 24 23
Outside Spain: +34912742542

Email

atencion.clientes@dufry.com

Opening hours

5:30h - 22:00h

Airport
---